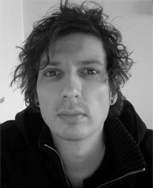 Hey there I am Nick Cremers and I am a motion graphic designer.
I love to make 2d and 3d animations and shoot some beautiful images with my Canon camera.
In 2005 I graduated from the Filmacademie (Amsterdam).
After that I worked at Wanahaves/Posttv.
Since 2009 I work at Redrumbureau for 4 days in the week and the remaining 3 days I spend on jobs for my own little shop.
So if you need an animation drop me a line at info@theescapeplan.nl or call me at +31 (0)643050187.
In my spare time if I have any I work on my first short movie called what killed Timmy Benson?
This is a dark story and is slowly taking shape, you can read all about it on my blog.
Software I use or can use are: Cinema4D, After effects, Nuke, Photoshop, Illustrator, Finalcut, Premiere, Syntheyes, Pftrack, Zbrush.
Cheers!!! Nick
The Escape Plan: Hilversum E-mail: info@theescapeplan.nl Tel: +31 (0)6 430 50 187 Home